Raising funds for East Cheshire Hospice, Broken Cross Club, Macclesfield, Friday 25th March 2022
Thoroughly enjoyed your gig on Friday night – Any more gigs coming up? – Ian
We raised £750 for the East Cheshire Hospice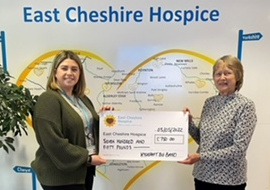 Raising funds for East Cheshire Hospice, Broken Cross Club, Macclesfield, Friday 7th February 2020
Thank you for a wonderful evening of musical talent.
A big friendly party. FAB! Really good atmosphere
We raised £1150 for the Hospice: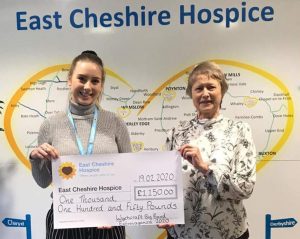 Concert raising money for prostate cancer at Biddulph Methodist Church, 23rd November 2019
Just to say a big thank you to Simon and all the members of the Band for a great night of nostalgic and most memorable music. It really was a wonderful evening and I keep bumping into people in Biddulph who, with smiles on their faces, have said how much they enjoyed it. David
Manchester Historic Vehicle Club, Annual BBQ & Concours 1st July 2019
Thank you for a lovely evening, the band played really well and Simon on vocals was excellent. I thoroughly enjoyed the performance. Jon
Congleton – Daneside Theatre  1st June 2019
Just to let you know how appreciative the audience was on Saturday night. The response was amazing and we have had numerous requests for a return visit! Lesley
What a wonderful evening – great music and very talented singers. Pip
Brilliant show last night. Everyone leaving were saying how much they enjoyed it. Our young people had never sung with a big band before so were on a real high. Val
Congleton – WI Group Meeting 1st May 2019
Just to report how much the meeting enjoyed the band tonight.  They got plenty of applause – and believe me, that can be hard won if the members don't take to the entertainment!  Simon does a fine job as MD. He gets the mood just right and the programme was wide-ranging and excellent. Lesley
Broken Cross  – Raising funds for East Cheshire Hospice  Friday 8th February 2019
We loved the concert last night – fabulous sound. Janet
Brilliant performance by all. Loved it! Debbie
The evening was uplifting, there's no other word for it – Mark
We raised £1600 for the Hospice: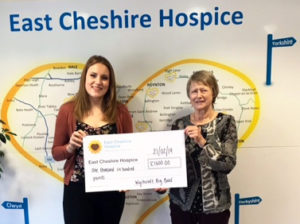 Crewe – Wheels of War Saturday 29 September 2018
You were brilliant. Are you coming back next year?
Absolutely Amazing. We're telling all our friends and coming back next year.
Macclesfield – MaccPeaceFest, Saturday 23 September 2018
On Sunday afternoon as part of the Peacefest weekend we enjoyed a varied and lively concert based around the swing band music of the early 20th century. The programme included several Glenn Miller numbers with accomplished solos from different band members and vocals from the band leader Simon Lodge and an excellent vocal contribution from guest singer Rosie Douglas. As the afternoon light slanted through the stained glass and the day cooled down, the urge to get up and dance got stronger but shyness kept us in our seats. Great party music. Lorna
Gawsworth – Fundraiser for East Cheshire Hospice, Saturday 11th November 2017
What a brilliant evening! And for such a good cause! The Wychcraft Big band treated us to a combination of great, familiar toe-tapping numbers and one or two more gentle, emotional pieces celebrating what East Cheshire Hospice achieves. Highly recommended.
Carolyn
An excellent evening, full of nostalgia. We will be back for more. Helen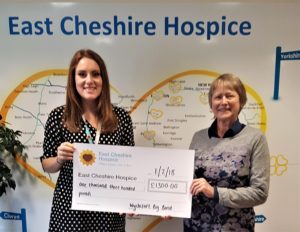 Hale – U3A Jazz evening, Saturday 14th October 2017
Wonderful evening, an excellent choice of music. Sue
Crewe – Wheels of War. Saturday 23rd September 2017
Article in the Sandbach Chronicle
Rudyard Lake Sailing Club, Saturday 17 June 2017
Beautiful warm summer evening, fabulous food and great music from Wychcraft Big Band.
Altrincham Market House, Monday 15th May 2017
The Band was brilliant! We had such fun, we were dancing in the aisles!  Elise
Gawsworth East Cheshire Hospice Gig, Saturday 8th October 2016
A brief note to say how much we enjoyed Wychcraft at Gawsworth.
You all put in so much effort & it was clearly a great success. Let's
hope you decide to repeat the performance again next year.
Anthony was straight on to me this morning to say how much he & Pippa
enjoyed it as well! Thanks again.   Ros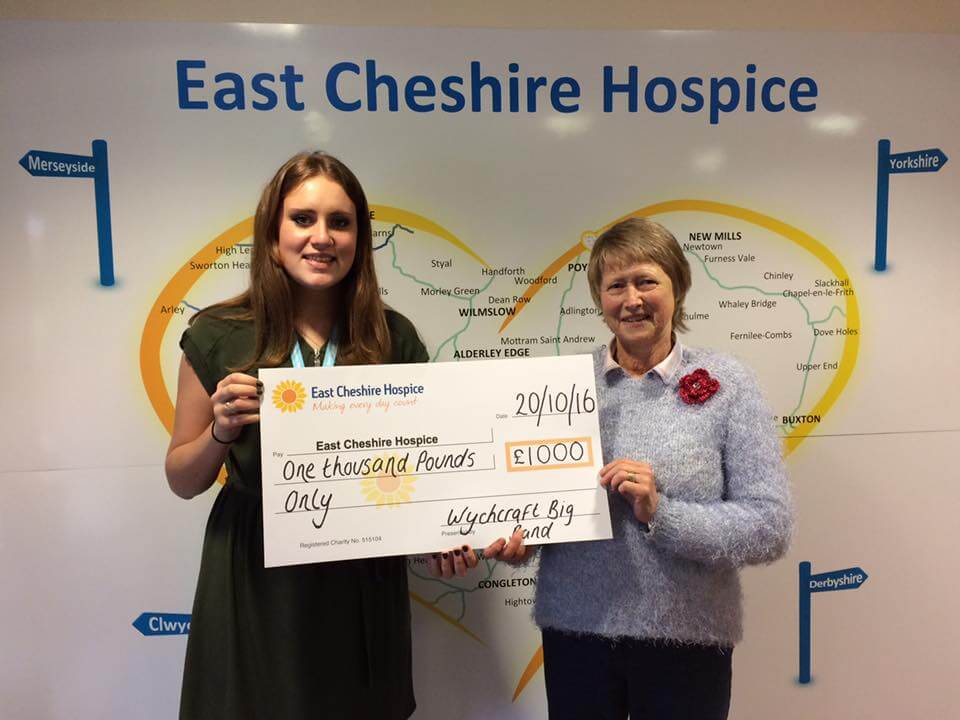 Congleton Private Function, Cheshire,  Saturday 10th September 2016
Thank you so much for playing last night.
The big band we're absolutely great, everyone without exception said so!
Many took your details. The music was all so appropriate. A joy to listen too.
Although they didn't dance much until I badgered them, I know they were
listening and thought it wonderful.
I shall not hesitate to recommend you whenever!
Many thanks       Annette
Live music at The Stag, Cemaes Bay, Anglesey, Saturday 16th April 2016
I went to see the Wychcraft Big Band perform at the Stag Inn, Cemaes Bay on Saturday night. They provided a wonderful mix of music which created a great atmosphere. A very enjoyable evening. I will certainly be looking out for them in the future.  Judith
An Evening with Wychcraft Big Band at Gawsworth Scout Hall, 11th July 2015
We were delighted to hear about your Big Band evening. Congratulations on raising £650 for East Cheshire Hospice. This is a wonderful achievement and we are grateful for your support. Leah at East Cheshire Hospice
The talk in Gawsworth afterwards was what a great night it was and how smart the band looked. Heather
St James' Masonic ladies' Evening, 10th January 2015
I booked Wychcraft Big Band as the main entertainment for our annual Masonic Ladies Night in January 2015. Arrangements with the band were managed in a most professional way at very short notice and our individual requirements met with no fuss or problems. The band on the evening were brilliant, creating a superb atmosphere and entertaining the audience with some excellent renditions of both classic dance music and some more modern tunes. I would have no problems in re-booking the band or recommending them to other organisations who require that classic sound for any event at exceptional value for money.
Rudyard Lake Sailing Club Annual Dinner, 22nd November 2014
The Annual Dinner was a great event with a fantastic live band! Sailing Secretary's Blog
Chelford Tenants and Residents Annual Dinner, 11th October 2014
Once again an enormous thank you for another evening of sensational music and entertainment on Saturday evening at the Hall at Marthall.
Rave reviews from all our guests!
40's Evening at Byley Village Hall, 26th April 2014
Fantastic! Absolutely Wonderful! So Professional!
The best evening I've ever had, everyone really enjoyed it!
British Legion Annual Dinner Dance at Bunbury Village Hall, 15th February 2014
You're the best band for dancing to we've ever had!
Concert at The Winsford E-Act Academy, 30th November 2013
Many thanks for such a great night, it was so enjoyable and we can't wait until the Byley 40's night on 26th April next year. Stephen West
Dance Evening at Allostock Village Hall, 16th November 2013
Just a short note to say a "big" thank you to the Wychcraft Band, and of course the wonderful Jordan (vocalist), for such a lovely evening on Saturday. It was a super night and pitched just right for the audience.  Kathy Chadwick
Wartime Concert organised by Frodsham Music and Arts Club, 18th October 2013
It was brilliant. I knew all the songs because the radio was on all the time at that period. Gladys Bowring
It was great, my feet were jangling all the time!
You're a great Band, I feel almost young again!
Charity Concert organised by Knutsford Lions, 4th October 2013
Thanks to all the Band members, Simon (Musical Director) and Geoff (Vocalist) for a really entertaining evening – it was quite obvious that the audience enjoyed it thoroughly – and so did I!   Mike Goldman
An Evening of Big Band Music at Astbury Village Hall, 7th September 2013
A brilliant night! I wanted to say how much I enjoyed last night's performance at Astbury. It's the first time I've seen the Band play under Simon Lodge's directorship and I thought he and the Band did a really good job.  John Coote
A wonderful evening, the Band was excellent!    Pam Bentham
We've come to all the Wychcraft concerts at Astbury and this Band gets better and better every year. It looks and sounds more professional each time.
It's good to see how much fun the Band has playing such great music!
RNLI Festival Weekend, 1_2 June 2013
A great weekend and the best evening do ever on the Saturday night – all thanks to the Wychcraft Big Band, who were superb, and of course to everyone who attended who generated a brilliant atmosphere.   Janet's blog, 6th June